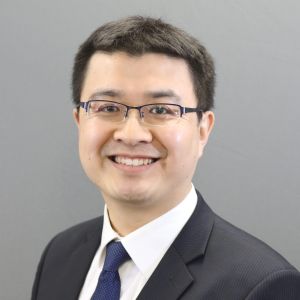 Zhenhua "Johnson" Sun, Shanghai, China
Success Story
My name Is Zhenhua (Johnson) Sun; I was born and raised in China; I've been a severe stutterer since age 3. I came to the U.S. two years ago to work on my Master's Degree. Three months later, with enormous pressure in a foreign country, I found I couldn't talk at all. After communicating with several American friends, I went to a local hospital in search of speech therapy and they found me a speech therapist. It was November 2014. I met with her weekly for two years. She told me some methods to help me and tried to let me be relaxed during talking. It helps but I was still stuttering badly under pressure, and I, when I blocked, I clenched my face and sometimes rolled my eyes into my forehead. I knew that it wasn't pretty. Because my speech therapist never stuttered, she couldn't fully know my feelings. So she can't give me a hand to get rid of most of my stuttering totally. Realized the problem, in May 2016, I began to search books through Amazon. I found Lee's book.
Lee is an amazing person. After he received my email, Lee urged me to read the book as soon as possible and offered free video talk after this. In the book, he provides quite a few methods to fix stutters during talking. In the last two chapters, the most important part of the book, he introduces auto-suggestion and self-hypnosis as root methods to defeat stutter. When I read the book, I could feel Lee knows every detail of stutter. After reading the book, I felt I was equipped super weapons to fight with my stuttering. Through video talks with him, my progress is detectable. Now, more and more times, I can feel that I'm relaxed and comfortable when I speak with others. I can feel my progress every day. I don't make faces when I speak now or roll my eyes into my forehead anymore. Strangers no longer think that I am a stutterer. My stuttering is now 95% cured in Chinese and 90% in English. I owe my cure to Lee's book and Lee's coaching on Skype. Lee's methods work, and he gives his time freely and unselfishly.
When I had video talk with Lee, he told me some people didn't believe him before any communication and even said very malicious words for reasons we can't understand. I felt sad about it. If you want to find a person that get benefits from Lee and his book, I'm one of the severals. You can add my Facebook, and then we can talk.
Now, Lee and some of us PWS who have self-cured using Lee's methods are forming SAA/Speech Anxiety Anonymous, where we hope to help other PWS self-cure. I'm excited to do this. Although I must work and have limited time, I do want to give an hour of time a week to help other PWS self-cure. I know how much Lee's help did for me, and now I want to do that for others. Besides, Lee says that his coaching of PWS makes his speech better every day. What a blessing!
If you would like to hear me describe my Success Story, go to: https://www.twitch.tv/videos/248211628
"Again, after stuttering all of my life and spending about $30,000 in two years of therapy in New York (2014-2016), I found Lee's book and started Skyping with him in mid-2016.  Within four months or so, I stopped stuttering.  That was over two years ago. On February 21, 2019, I did this very short video-update: https://youtu.be/g4JMZyIboUc.  I have never relapsed.
Zhenhua "Johnson" Sun, China-NY